Incidents Involving Animals
© BARTA 2023
Initial Level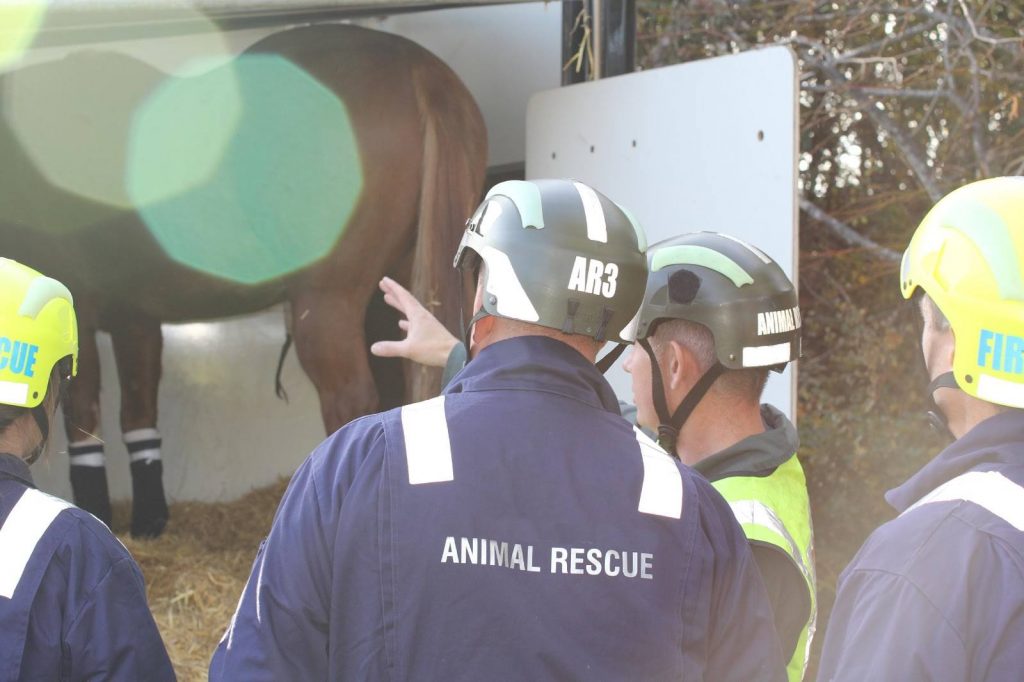 This package contains supporting materials and media for a 2.5 hour session.
How do responders understand the needs of animals and humans during emergencies and disasters and why does this matter?

Animals are a part of everyday life and therefore will be encountered during everyday emergencies attended by our first responders.

Whatever the situation, from medical calls to motorway crashes, fires to flooding, animals are likely to be caught up in the situation, either directly requiring rescue themselves, or indirectly, being present in and around the scene.

Animals in distress react differently to humans when scared, utilising natural defence mechanisms. Their presence alone can be problematic, cause disruption and add complications to a plan.
Animals often require specialist handlers and veterinary support.

The 10 steps to situational awareness is a process which can be used by emergency responders (and planners) to gain an understanding of animal, people and environmental risks to mobilise the correct resources and make good operational decisions.

It follows the principles of normal risk assessment, but gives an appreciation of the additional aspects of an animal incident that might not be recognised without training.

It is important to ensure that all response agencies have a joint understanding of risk where animals are involved and therefore this subject follows established JESIP principles aimed at equipping agencies with sufficient knowledge to be effective.

This process can be utilised at many levels in an organisation, or as a wider planning tool for Local or National Resilience.
For instance, it may provide emergency planners with an understanding of local risks, support managers in identifying staff training needs or provide essential guidance for operational personnel making mobilising or tactical decisions during emergencies and disasters.

Key considerations

Emergency responders should only consider interacting or handling animals after the following can be confirmed:

1. Risks have been assessed and good situational awareness is established
2. PPE suitable for the task is available
3. Improvised or purpose made handling and containment equipment is suitable and available
4. Task falls within the skills and capabilities of the individuals
5. Understand the organisational implications under the Animal Welfare Act 2006

BARTA recommends that all animals receive definitive veterinary care as soon as practicable following unconsciousness, smoke inhalation, respiratory distress and trauma.
Initial Level – 10 Steps to Situational Awareness
Step 1 – Consider Species
The type of animal will have a significant bearing on the nature of risk and directly influence behaviours at the scene of operations. For the purpose of emergency service training, animal species have been split in to 5 distinct groupings; Wildlife, Domestic, Equine, Livestock and Exotic.
An appreciation of key behavioural and responsive differences between these species groups is important as they all require a specific approach.
However, a species category is not in itself sufficient to make definitive judgments in relation to planning, responding to or managing an incident.

Step 2 – Assess Situation
Animals can be found in almost any operational context. However, it is essential to determine the exact situation that involves an animal because this will impact on resources and urgency of any response.
Step 3 – Consider Environment
Crucial to assessing the needs of an incident is the nature and context of the environment surrounding it.
National Operational Guidance for the Fire and Rescue Service discusses the rescue of animals from various environments. The context surrounding the environment will determine the lead agency and dictate the skill sets required to resolve it.
Step 4 – Impact of People
A considerable factor in resource mobilisation will be the presence of people and the risks they face, or indeed, pose. At a fire or other seemingly risky environment with a human-only focus, the public generally await professional assistance and do not endeavour to intervene except in extreme circumstances.
However, where animals are involved, between time of call and attendance of responders, there is a high likelihood that someone will take matters into their own hands and attempt to intervene on behalf of the animal.
Step 5 – Determine the Task
Another factor in determining which organisations and agencies are required is the actual task, what needs doing.
Rescue or evacuation of animals from known hazards will form the basis of many fire and rescue service animal rescue interactions. However, managing risk to or from the animal may be the imminent need and adopted by a number of response agencies.
Step 6 – Identify Additional Animal Risks
A number of WATCH-OUT situations exist when assessing animal incidents which may compound a situation with additional risks or operational considerations.
Animals out of their natural environment are likely to be more dangerous as they will be anxious and possibly more aggressive or unpredictably volatile.
Step 7 – Planning
Animals are the crosscutter; they cut across all disciplines and incident types, from small scale scenarios to wide scale disasters and major emergencies.
They may affect any front line emergency service, posing an unpredictable hazard that historically has received little in the way of pre incident planning.
Information regarding animal risks can be sourced in a number of ways. Local knowledge and on site expertise are probably relied on most, however neither are guaranteed or totally reliable.
Step 8 – PPE and Equipment
Some interactions with animals will require early intervention in order to save human life or prevent rapid escalation of an emergency situation before specialist resources or equipment are available.
Risk assessed situations may allow for responders to take action that will support the safety, welfare or viability of an animal within their capabilities at initial trained level.
Other situations will require intermediate or advanced levels of PPE, knowledge and skills from the outset.
Step 9 – Appropriate Skill Sets
BARTA are developing skill sets that are grouped Initial, Intermediate and Advanced.
Initial training is designed to give personnel sufficient situational awareness that they will make risk based judgements on a given incident.
Intermediate training is recommended for animal interaction and most rescue types where a good understanding of behaviours, control techniques and rescue or handling techniques are required.
Advanced training reflects skill sets of a technical rescue team or a tactical advisor.
Step 10 – Communicate Actions
At an incident, using the 10 steps to Situational Awareness will result in a risk based tactical plan with associated actions.
The choices will be to accept risks and operate within agreed skill sets or to manage a scene until more specialised resources arrive.
Either way, this will be based on sound principles with multi agency Joint Understanding of Risk and agreed actions. This, if done effectively will promote a welfare centred plan based on safe working practices.
Case Studies
To support initial level (AR1) learning BARTA have created a narrated case study, useful in looking at how you might approach a scene using our BARTA 10 steps to situational awareness training.
Giving an insight into the thought processes and risk based approach an Animal Rescue Team Leader might take to assess an emergency situation, in this case, a dog in a hot car.
The answers given in each of the case studies have been agreed by the BARTA Working Group and NFCC Animal Rescue Practitioners Forum.
NFCC NOG Operations: https://www.ukfrs.com/guidance/operations
NFCC NOG Incidents Involving Animals: https://www.ukfrs.com/guidance/incidents-involving-animals
NFCC NOS Plan for Incidents Involving Animals: https://www.ukfrs.com/nos/sfjefss005-emergency-fire-services-specialist-roles
NFCC NOS Manage Incidents Involving Animals: https://www.ukfrs.com/nos/sfjefss006-emergency-fire-services-specialist-roles
The BARTA Guidance documents and resources have been created by the BARTA small and large animal working group, in collaboration with the National Fire Chiefs Council Animal Rescue Practitioners Forum and the RSPCA.

For further information on our other courses for veterinarians and veterinary students please see our: Emergency Responder Training Courses