New Techniques for Racecourse Incident Response Teams in action!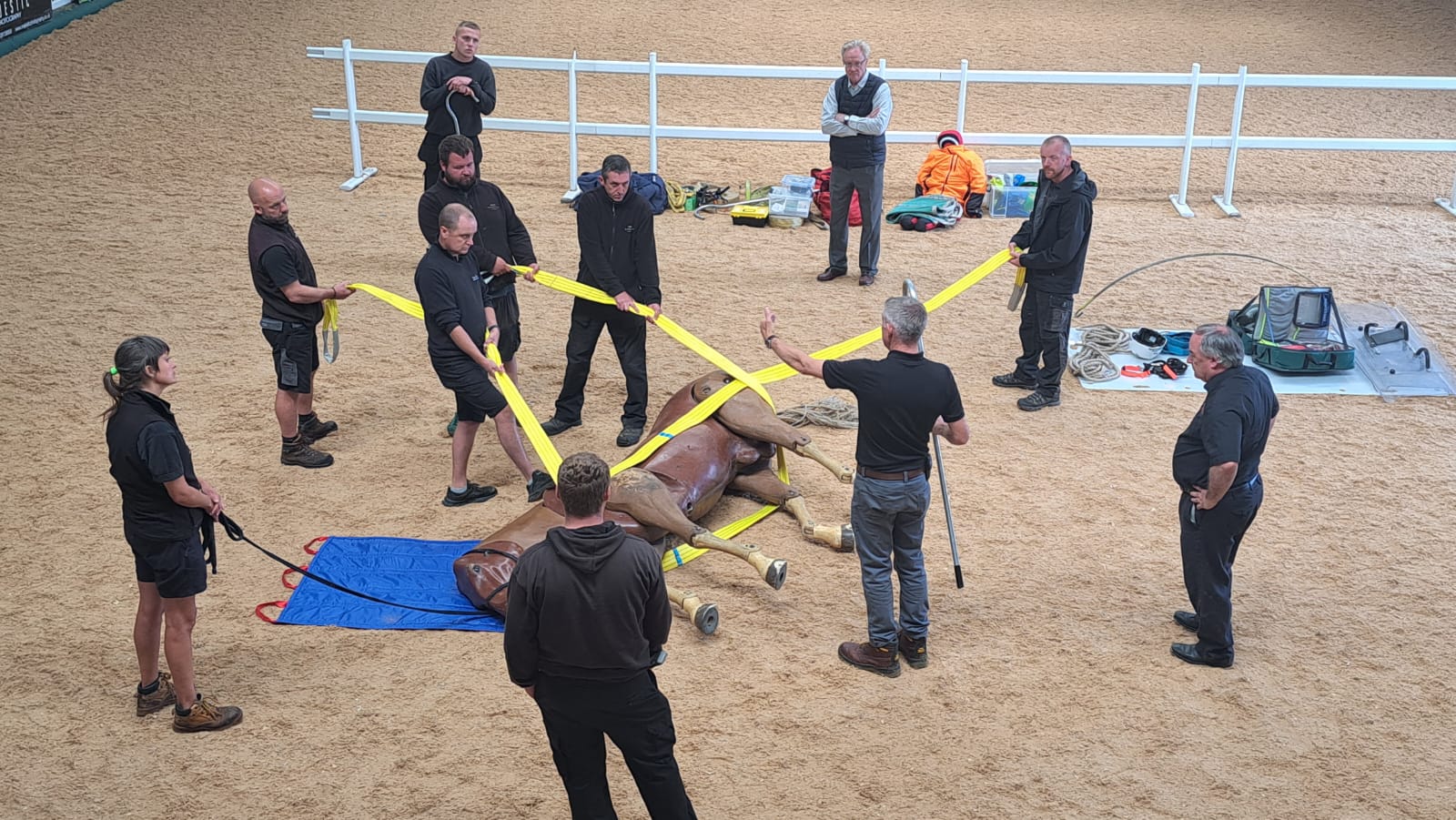 Training by the British Animal Rescue and Trauma Care Association (BARTA) contributed to the success of an incident involving a racehorse named Battle Cry, who flipped over backwards in the starting stalls before a race at Doncaster last week.
Racecourse Veterinary Surgeon Nigel Haizelden was immediately on scene and worked with the stalls team to swiftly resolve the situation which if not dealt with effectively, could have resulted in injury to the horse and those around it.
Nigel sedated Battle Cry, to calm the situation and prevent him panicking. The stalls team immediately removed adjacent horses to create space and make it safe to work around the horse, placing a head sheet under him to protect his face and eye as he lay on the ground. A rescue strap was threaded around his chest and he was quickly slid from under the stall and once in a place of safety was allowed to stand. Battle Cry was checked over back at the stables and prepared for his journey back to Ireland, following which he had a day of rest and is now back to training, none the worse for his experience.
Nigel Haizelden, Veterinary Officer for the British Horseracing Authority (BHA) said:
"As part of their ongoing commitment to safety and welfare, Britain's racecourses are currently training "Racecourse Incident Response Teams" which will be the racecourses' equivalent of an emergency service.
"These multi-agency teams are formed of racecourse staff, vets and medics who will be carrying out their existing racecourse duties, and are trained to national Fire & Rescue standards using BARTA approved equipment & techniques.
"The training concentrates upon best welfare practice for the horses and excellent safe working practices for all incident responders. All techniques used approved by BARTA's stakeholders, which include all of the UK veterinary organisations and welfare bodies."
This year BARTA have trained teams from 35 UK racecourses to support incidents where horses and people require assistance. Ground Staff form part of the incident response team, working alongside human medics and racecourse veterinary surgeons to deliver the best care to casualties with two or four legs.
Preparing for foreseeable situations as a team, utilising tried and tested techniques developed for the emergency services and approved by BARTA's wide stakeholder group, has ensured that best practices learnt during civil emergencies can be applied in other areas where people and animals may be in trouble.
The British Horseracing Authority this year updated guidelines for racecourses who now have the opportunity to provide rescue equipment for situations like this and carry out regular scenario training with the full response team.
BARTA Director Jim Green said, "It has been a real privilege to see how rescue techniques and principles of incident management, developed through the fire and rescue service, is now benefitting many other agencies and organisations who are preparing for their own incidents involving animals. BARTA have developed a programme that standardises the response across UK racecourses, improving outcomes for people and animals. We are very proud to have contributed to this success and hope that others will benefit from the pioneering efforts of BARTA, the British Horseracing Authority, Racecourse Association and Association of Racecourse Veterinary Surgeons"