BARTA Conference 2024
Described as inspirational, BARTA's last conference "Managing Risk – Meeting Societal Needs" was held in 2017 in conjunction with the University of California, Davis. One global pandemic later, BARTA are excited to announce dates for our next conference:
June 12th-14th 2024, in partnership with Glasgow School of Veterinary Medicine, Scotland.
Entitled "Global Solutions To Tackle Local Issues", this conference will build on four key outcomes of California 2017
Behaviour – Human and animal
Technical – Science behind the practice
Regulatory – International standards and codes of practice
Training – Cross discipline, modular driven approach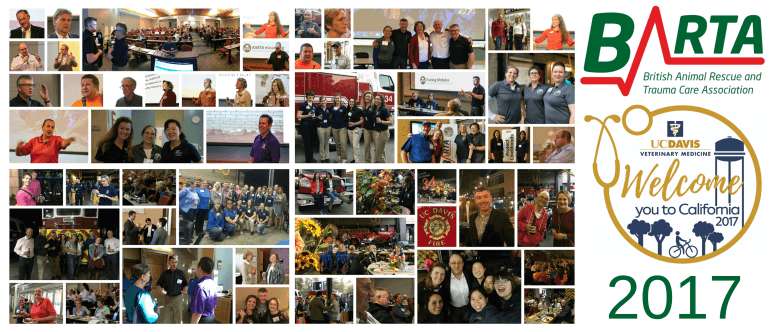 First Responders – Veterinary Professionals – Emergency Planners – Civil Contingency Experts – Local Resilience Forums – Environmental Protection Agencies – Animal Welfare Sector – Community Responders – Animal Health and Transport Professionals – Government Officials;
Conference key themes will appeal to a broad range of people interested in the management of incidents involving animals
Incidents Involving Animals – Understanding the requirements of an All Species – All Hazards – All Responders approach within Community Integrated Risk Management Planning
Rescue and Trauma Care – Striving to improve practices in animal rescue and immediate care
Preparing for a climate emergency? – Considering proactive partnerships, building networks, planning a community response to emerging events
Learning across borders – Engaging an international community to share learning and support each other through an International Community of Practice
Are you…
Already part of the worldwide animal rescue community and want to engage with likeminded people?
An emergency planner seeking clarity about how animals impact an emergency or disaster and how to prepare?
A veterinary or emergency service responder looking to develop skills and knowledge?
A member of local or national governance wanting to understand why animals should be considered within One Health community preparedness and national resilience?
Then the mixture of engaging talks, panel discussions, breakout workshops and the opportunity to spend time with dedicated people, making a difference in their communities is not to be missed. We hope to see you in Glasgow 2024, save the date and more details to follow.
Listen here as Professor Josh Slater gives his roundup of the outcomes from California 2017