VLAR Level 2 – First Responder
The BARTA VLAR 2 – First Responder accredited course is aimed at veterinary professionals with a minimum of 6 months in practice experience.
A popular, internationally available, blended learning programme with nine hours of assessed pre-course eLearning and supported by a seven hour workshop. This interactive day will be spent working through case based scenarios and is facilitated by a BARTA Vet and a Fire and Rescue Service Animal Rescue Specialist (AR3).
Working within the inner cordon under a strict command and control structure in a pressured environment can be daunting and it's vital that you're prepared. At an animal related incident you'll be providing advice, direction and utilising your clinical skills by providing triage, chemical control, pre-hospital care, euthanasia (if required) and advising on the tactical plan for the incident.
John Blackwell was on call one afternoon when the practice received a call for help from the emergency services. What John was faced with when he did arrive, was more than he expected from the conversation he had after the initial call.
Reflecting on a call for help…
Your role is crucial and understanding the protocols of the emergency services, approved rescue techniques and how you can utilise your existing skills to assist in a successful outcome is essential.
The BARTA VLAR 2 – First Responder training programme is aimed at providing both qualification and standardisation of techniques for veterinary professionals and in turn achieving a wide scale seamless, professional approach to dealing with incidents involving animals.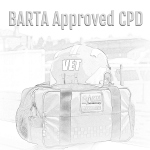 16 hours CPD will be awarded following completion of the pre-course eLearning and attendance at the case study workshop.
For information on course dates and costs please contact: info@bartacic.org