New – Practical Management of Recumbent Large Animals Workshop
BARTA are pleased to offer a new CPD workshop designed to give delegates the foundation skills to assist in managing recumbent large animals.
The workshop is open to a range of people from veterinarians and veterinary nurses to welfare charities or those managing an animal facility.
Featuring techniques that form the cornerstone of preparedness for emergency responders worldwide the workshop is open to those who want to gain a better understanding of assisting large animals in crisis or who are expected to manage recumbent equines or livestock as part of their role.
Highly practical using life-size and realistically weighted mannequins, delegates will learn how to manoeuvre large animals manually and on a glide, plus participate in a range of scenarios developed from real life situations.
On the day you will be guided by one of BARTA's experienced animal rescue team leaders and benefit from their experience and insight gained attending incidents involving animals working for the Fire and Rescue Service.
Limited to 10 delegates and being offered at the introductory price of just £250 per person (15% discount for BARTA Vets) the day qualifies for 7 hours of CPD.
Please contact BARTA if you would like any further information on the workshop or about any other bespoke training and educational programmes BARTA can provide for your organisation on: info@bartacic.org
Management of Recumbent Large Animals – Key Learning Points: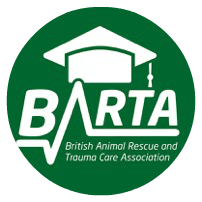 Managing situations and creating casualty centred plans
Demonstrating techniques developed through worldwide collaboration and used throughout the UK rescue services
Understanding how to apply the most appropriate technique for the circumstances
Utilising resources based on knowledge of capabilities and limitations
Working as a team with safety uppermost in decision making
Please Note:
No prerequisite training is required for this workshop; however delegates must be physically fit and capable of carrying out manual handling techniques as part of a team.
This course is of a highly practical nature and will involve manual handling of our realistic large animal mannequins (250 kg Horse).
A medical waiver form will need to be completed on arrival
PPE is required for this course
Helmets and gloves will be provided by BARTA where required, but delegates are asked to wear protective footwear
A buffet lunch will be provided, please inform us of any particular dietary requirements on booking.
7 hours of CPD will be awarded on completion of the workshop day