Conference 2017 Update: An Inspirational Event…
 Incidents Involving Animals: Managing Risk – Meeting Societal Needs
The UC Davis School of Veterinary Medicine hosted the Incidents Involving Animals Conference in partnership with BARTA in October 2017. This exciting opportunity for building relationships and developing best practices was a truly inspirational event.
All those who attended were involved in animal rescue, response or preparedness, we met up to share good practices as well as forge relationships and partnerships which will improve safety and welfare of animals in future emergencies and disasters.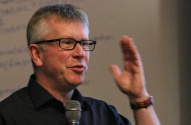 Here Professor Josh Slater, Director of BARTA and Professor of Equine Studies at the RVC reflects on the event and talks about highlights, main themes and take home messages from the conference and setting out our aims for partnership working and a vision for the future…
Within Josh's talk we developed some images to highlight the main themes, vision and take home points that we would like to share with you.
Click on the image below to see more.
At the end of the event in California we asked our delegates a few questions around what they believed as group what we should focus our efforts on whilst working towards our next conference, hopefully in 2019.
Whist we had many varied replies and ideas put forward, looking at all the answers they reflected a familiar theme and these few replies summarise the answer to one of those simple questions: What will we do differently?
Bring together more stakeholders to be part of conversation
Communicate more and stay connected with others
Disaster planning on hyper-local level (friends, co-workers, neighbours, etc) There is a wealth of experience and ideas and practice that need sharing and aligning.
This is something we can deliver together as a global team. Engaging with all those involved and their amazing enthusiasm for driving forward change in dealing with incidents involving animals, is key to our future success as a global force for change.